Andy Morales Staff Writer, AZPreps365.com
FLORENCE — Morenci scored a state-record 301 points to capture the Division IV state championship Wednesday night at Poston Butte High School. Yuma Catholic took second place with 184 points and St. Johns finished with 178. Sunnyside scored 282 points in 2000.
The 117-point victory margin by the Wildcats is in the top five in Arizona history with Camp Verde beating Benson by 157 in 2007, Sunnyside beating Mesa Mountain View by 131.5 points in 1984, Sunnyside beating Mesa by 127 points in 1983 and Mingus Union beating Buckeye by 125.5 in 2007.
The Wildcats did it by sending 14 wrestlers to state, earning 12 medals, with five of those being state championships. Yuma Catholic also sent 14 to state, earning one individual championship.
For Morenci, freshman Breck Williams (15-1) beat Mikey Doerr (9-2) of Yuma Catholic 12-6 to win the 106-pound division; So. Soloman Lucero (15-1) beat Lucas Eviston (12-1) of Seton Catholic 5-2 at 120; Sr. Marcus Morales (16-0) beat Jacob Navarro (9-3) of Yuma Catholic 8-2 at 126; Jr. Cody Torres (15-2) pinned Oren Allsup (15-1) of Willcox at 152 and So. Trez Rodriguez (11-1) beat Abraham Silva (10-2) of Parker 5-3 at 220.
Yuma Catholic senior Jayden Dobson (11-0) pinned Skylar Guerrero (8-1) of Miami to win his third title with his first two coming with Yuma at the D-III level before he transferred over to the Shamrocks.
Santa Cruz junior Diego Chavez (12-0) pinned Gage Thomas (14-1) of Winslow to capture his third title in a row. Chavez helped the Dust Devils win back-to-back state championships in 2019 and 2020 but that got more difficult with about a dozen wrestlers leaving the school and feeder program for a private school in the Phoenix area. Still, Santa Cruz finished in sixth place with 130 points. Santa Cruz junior Wyatt Ogle (12-0) beat Seth Durbin (8-2) of Globe 6-1 to win his second championship.
St. Johns junior James Thomas (18-0) beat Hunter Ogle (9-2) of Santa Cruz 8-2 to help pace the team to their third place finish. St. Johns took third place last year.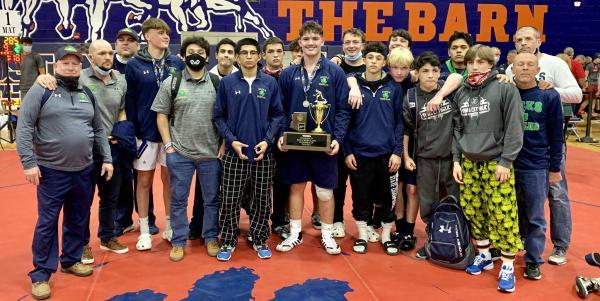 (Yuma Catholic/Andy Morales/AZPreps365)
Mogollon took fifth with 132.5 points and the team had three individual champions including a couple of brothers and a cousin. Jr. Cael Porter (18-0) beat Wesley Scarbrough (15-2) of St Johns 10-0; Jr. Malaki Porter (17-1) beat Tanner Wisely (15-2) of Northwest Christian 6-0 and their cousin Jr. Fisher Porter (18-0) beat Brayden Oliver (13-2) of Thatcher 5-4. Thatcher took fourth with 137.5 points.
The remaining two individual champions came from Globe So. Gabriel Gonzales (9-0) with a pin over Diego Pena (10-2) of Miami and Willcox Sr. Ote Allsup (17-0) pinned Jesse Green (13-6) of Thatcher.
Three seniors won individual championships so the season will have a few openings next year and Chavez of Santa Cruz will be going for his fourth championship.
Comments
comments